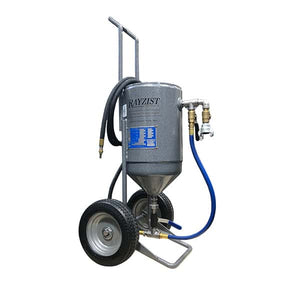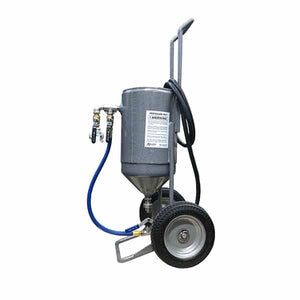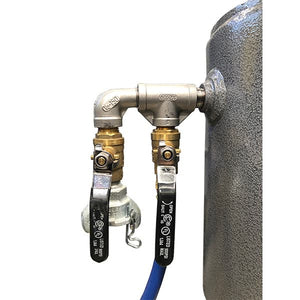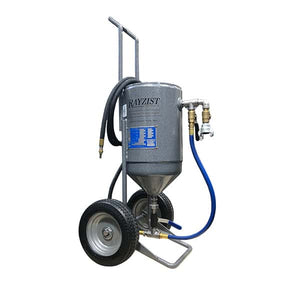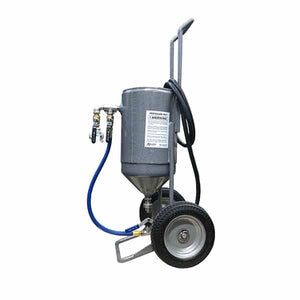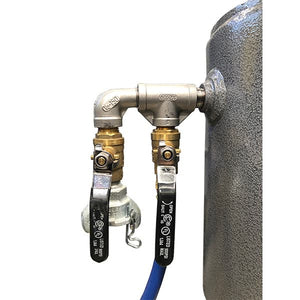 50lbs Monument Pressure Pot
The 50 lb. Monument Style pressure pot is designed for onsite sandblasting such as Donor Recognition, Monuments and Monumental Final Dates. The large rubber wheels are for soft surfaces such as snow and mud. The pressure pot is equipped with air fittings for high pres­sure blasting up to 125PSI with coarse abrasive.
Features
Portable
The pressure pot is designed to travel or move easily in shop or onsite.
50 lb. Pressure Pot
The Portable Pressure Pot has the capacity for 50 lbs. of abrasive. The pressure pot is popular among monument businesses due to the compact style and can be easily moved through a memorial park or cemetery.
Extra-Large Rubber Wheels
The extra-large rubber wheels provide ease of movement through grass, snow, mud and/or any rough terrain ground. Pressure pot is designed to travel in a truck or trailer and easily pull to onsite projects.
Heavy Duty Blast Hose
The 10 ft. heavy duty hose is flexible and provides adequate sand flow and longer blasting usage.
Blasting Pressure
The monument pressure pot system is designed to sandblast at high pressure providing the monument blaster with the blasting pressure there are accustomed to. There is no regulator limiting the sandblasting pressure.
Chicago Air Fitting
The monument pressure pot is equipped with Chicago air fittings. Chicago air fittings include a safety clip and designed to operate compressed air at high pressure.
Carbide Nozzle
The durable 3/32-inch carbide nozzle is versatile and easy to use for any sandcarving project. It comes with an adapter and O-ring.
Abrasive 220grit to 80grit
Pressure pot has the capability to process 220 grit to 80grit.
Sifting Ring
A metal sifting ring with a durable mesh screen is placed on top of pressure pot when refilling pressure pot with recycled abrasive.
Epoxy Powder Coated
The pressure pot is Epoxy Powder Coated with a two-tone epoxy powder coated for durable and resistant finish.
Powder Coating is a process called "Electrostatic Spray Deposition" (ESD) and is used to achieve the application of the epoxy powder coating to a metal substrate. An epoxy resin is cross-linked with a co-reactant or hardener, which when properly catalyzed and applied, the epoxies produce a hard, chemical and solvent resistant finish. This application method uses a spray gun, which applies an electrostatic charge to the powder particles, which are then attracted to the grounded part.
Powder coating results in a thick, dense finish on metal products which are more durable and last longer than conventional or industrial painting. Rayzist Photomask spends the extra effort and costs to ensure every sandcarving and automatic washout system is epoxy powder coated to produce the most durable finish.