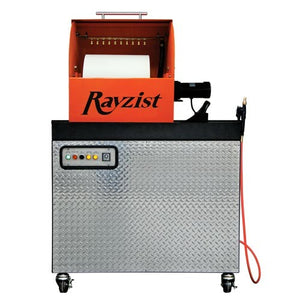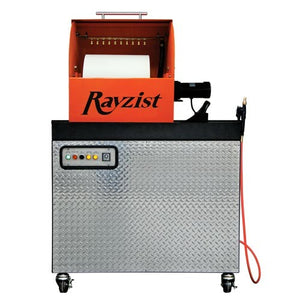 1620 Automatic Washout System - 5 Sheets Capacity
Automatic Washout System - 5 Sheets Capacity
Manage your high-output photoresist processing faster and better with the 1650 Automatic Washout System. With an exclusive Rayzist, patented design, the Automatic Washout System jumpstarts your productivity by automating the washout process and producing ultra-consistent results.
If you are washing out at least 200 feet of photoresist film monthly, nothing but 1650 will do. 
Set up:
Attach your hot water supply (3/4" supply hose recommended) and let the tank fill with water

You will hear the breather vent allowing air to escape (you will hear this as the tank fills)

Open the ball valve from the holding tank to the pump once the tank is full

Plugin the machine (plug or service disconnect required)

208-220V (50-60hz) 1-phase 30 amp – service disconnect is recommended (after filling the holding tank with water, open the control panel), turning main and component breakers.

Connect 1 1/2" ABS drain with slip/flexible couplers so the washer can be moved or serviced from the rear when needed.
Control Box Features Video Click Here
Technical Details
Weights and Measures
Dimensions: 106cmW x 84cmD x 160cmH
Shipping Weight: 250 kilos
Wash out Size: 5 x Legal Sheets or 40cm wide barrel x 175cm wrap.
Power: 20amp, 240v, Single Phase
Water Volume: 32 litrs per minute (recyled)
Requirements
Hot water inlet
Drain: 1.5" – 3.8mil
Videos



Features
Automatic washout
High speed film washout
Ultra-consistent results
Accommodates five standard 8.5" x 14" film sheets
Precision nozzle placement
10 High pressure spray nozzles
Auxiliary hand washer
Consistent drum rotation
Consistent water pressure
Energy efficient motor
High efficiency pump
30 Gallon heated reservoir
Simple to use control panel
Programmable timer
One button cycle function
Easy glide, stainless steel wash head cover
Epoxy powder coated stainless steel interior
Aluminium diamond plate body
Epoxy powder coated tray
Built on locking wheels
UL approved
Low maintenance
Reduces operator fatigue
Patented equipment design (#5,366,584)