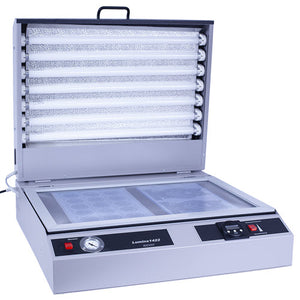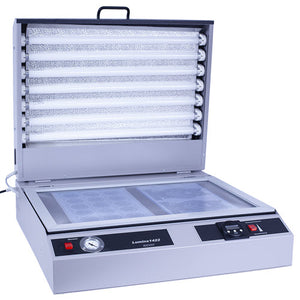 Luminx 1422 Exposure System
Increase your production capability with this multi-sheet exposure system. This is an absolute bargain.

This large exposure area 35cm x 56cm and quick operation allows for rapid production of photoresist films. Luminx offers professional compression that is necessary for detailed images such as photos (half-tones) thin lines and/or small fonts.
The powerful vacuum pump provides optimal compression through a structured mylar foil frame, full compression within 8-10 seconds, the textured foils provide bubble-free contact of your photoresist and print film more commonly found in flexible rubber exposure pads. 
Produce the highest quality photoresist stencils with Luminx 1422.
Dimensions: 66cmW x 70cmD x 24cmH
Shipping Weight: 40 kilos
Exposure Area: 35cm x 56cm (2 x Legal sheets)
Maximum Image Size: 35cm x 56cm
Power: 10amp, 220 volt
7 x 20wt UV Tubes
Shipping
Shipped on Pallet: 1mtr x 0.7mtr x 0.7mtr
Shipping weight: 40kilos
Can be removed from pallet for unloading
Videos

Features
Expose two sheets of legal sized (21cm x 36cm) at one time.
Constant illumination over entire exposure area
Powerful vacuum for optimal compression
UV Range 360-400nm
Digital timer
Fully manual exposure switch idea for UV Curing Applications
Maintenance-free all-steel construction
Warranty: 1 Year