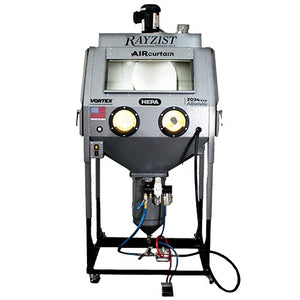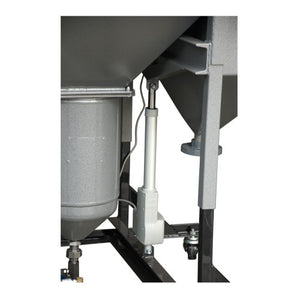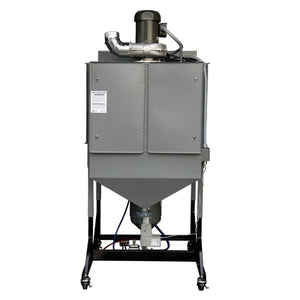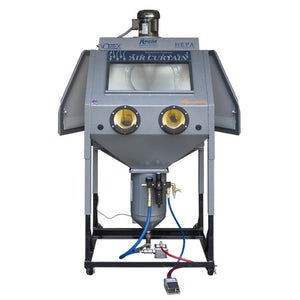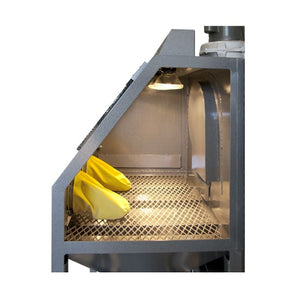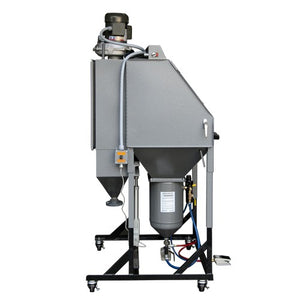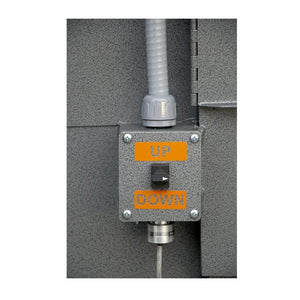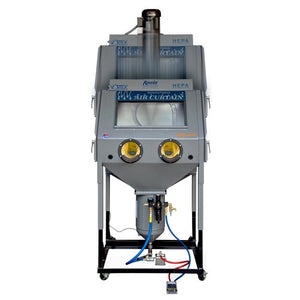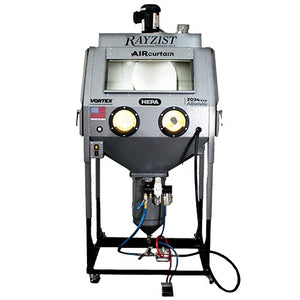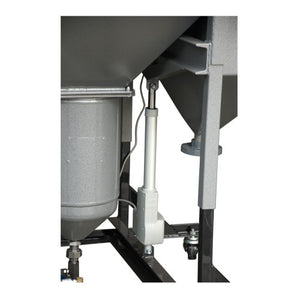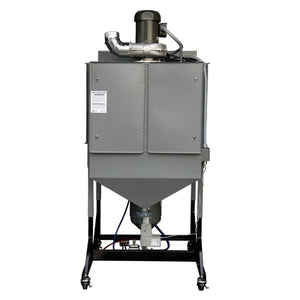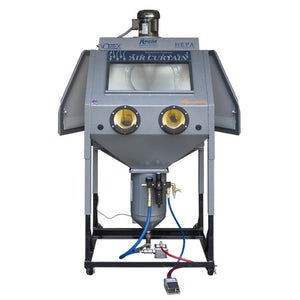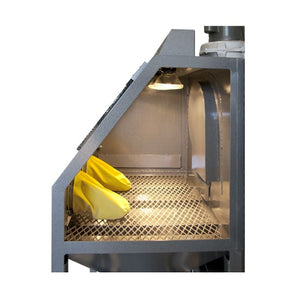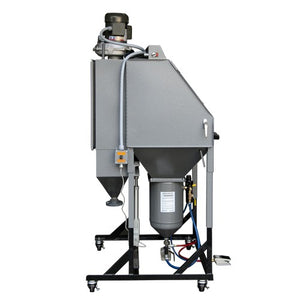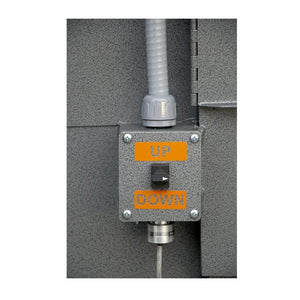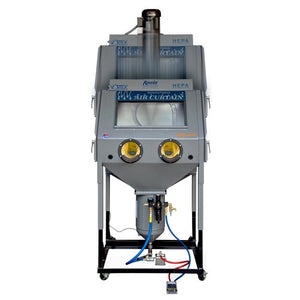 Auto Recycling Sandblasting System
The PB2034VXA Sandblasting system is our flagship system. It is a high-quality commercial pressure pot sandblasting system that performs at the top of its class.
The ergonomic design with electronically adjustable height makes it comfortable to use for any sized person and the unique vortex filtration system keeps your view clear while you work productively with the quality made pressure pot system.
Get the best system on the market today; get the PB2034VXA.
Shipping throughout Australasia on a pallet. Dropdown Tailgate delivery can be arranged if no forklift is available.
Weights and Measures
Dimensions: 99cmW x 84cmD x 200cmH
Inside Work Space: 86cmW x 56cmD x 61cmH
Door Opening: 51cmW x 54cmH
Power: 220 volt, 50 Hz 10amp
Compressor Recommended: 17cfm
Interior Air Suction: 740cfm

Shipping Weight: 260 kilos
Shipping Dimension: Pallet 1100x1100x2000mm
Construction
Cabinet: 14 & 16 Gauge Seamless
Motor: ¼ Hp, 3,450 Rpm, Radial Blades
Viewing Window: 60cmW x 30cmH
Pressure Pot: 70lb
Pressure Lines: 1/2" & 1/4" outer diameter airline. 300 psi rated.
Blasting Hose: Heavy duty braided 1/2" outer diameter. 150 psi rated.
Lighting: Dual 90 watt recessed halogen lamps, totalling 2740 lumens.
Videos


Features
Ergonomics
Electronic Height Adjustable
Padded Arm Rests
Foot Pedal Operation Reduces Fatigue
Dual Doors for efficient workflow
Quite Operation
Performance
Pressure Pot System
Carbide Nozzle – 3/32" standard
Auto Recycling System
Foot Pedal Operation
High Quality Regulator
Clean Air System
Clear View Air Curtain
Vortex Dust Management System
HEPA Air Filtration with Teflon Lined Bags
Filter Shaker to keep bags in optimal performance
Clean waste disposal system
Assembly
No tools required. System is packaged completely assembled

Requires Australian power plug (not included)

Requires 2 x Par 38 Socket. 90-100wt or equivalent LED lamp. (not included)
Warranty
Cabinet Construction: Lifetime Warranty.
Air Exchange Motor: 1 year.
Non-Wear Parts: 90 days.