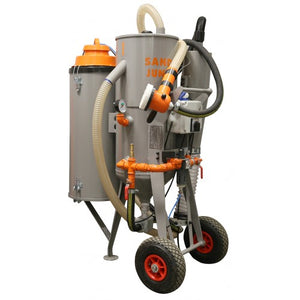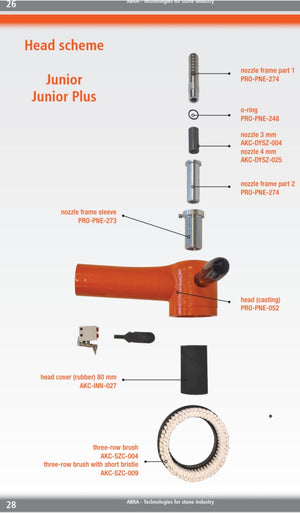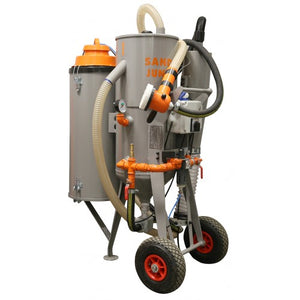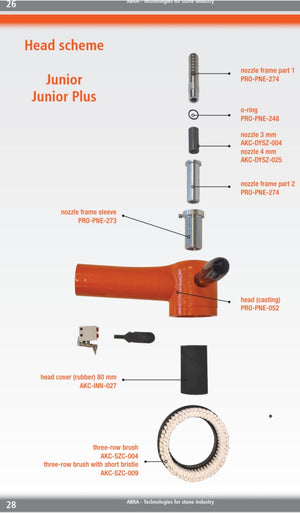 Sandmaster J+ Vacuum Portable Sandblasting System
Sandmaster Junior Plus is a vacuum sandblasting machine with a closed abrasive circuit designed for stream-abrasive processing equipped with a cyclone system of separation and filtration. The device is dedicated to medium-volume Headstone production companies.
It has advanced engineered solutions such as an automatic re-fill of the pot, a self-regulating abrasive valve, and a great filtration system to keep your abrasive free of contaminates. It's perfect for companies wanting efficient blasting and a healthy work environment.
This very well-built dustless system provides you with a reliable standard flat-panel vacuum sandblasting system. Couple it with the Sandmaster Levelling Arm for weightless blasting operations.
Weights and Measures
Vacuum Head diameter:
Dimensions:

85 x 65 x 140cm

Floor Space Requirement:

85 x 65cm

W

eight: 60kg

Shipping Weight: 100kg
Shipping Dimension: 110 x 110 x 170cm
Operations
Power: 240V/50hz - 10amp
Vacuum Power: 1200W
Standard Nozzle: 4 mm
Available Nozzle Sizes: 4, 5mm
Working Pressure: 1.5 – 6 Bar
Safety Valve: 10 Bar
Pressure Pot Tank capacity: 25 kg
Air Supply/Compressor
Minimum - 650l/min or 22cfm

Recommended - 850l/min or 30cfm

Air Hose: 19mm ID (inner Dimension)
Assembly
Fully Assembled

Requires Australian power plug
Warranty
Cabinet Construction: 2 Years

Non-Wear Parts: 90 days.
Videos


Features
Highly advanced dustless sandblasting machine featuring a closed abrasive circuit equipped with a complex system of double separation of abrasive, dust filtration, and filter cleaning system. A highly advanced clean and efficient system for manual blasting of engraving without the need for booth or blasting suit.
The Sandblasting Arm can be added to the abrasive blasting machine to add more consistent etching and operator comfort.
Environment
Dustless Operation due to quality reclaim head and vacuum
Clean work area environment
Remove operator fatigue
Performance
High efficiency, the average time of sandblasting tombstones is 15 minutes
Advanced Self-adjusting abrasive valve
Pneumatic filter flap system
Cyclone separation and filtration system
Electro pneumatic control system
Fast compression release system
Low air consumption, only 700 l / min
Automatic and dustless abrasive re-fill

Low abrasive sensor
Compact and sturdy construction

Simple to operate



Optional
Leveling Arm allows the operator to easily control the sandblasting process. The Leveling Arm secures the blasting head over the headstone which allows the operator to glide the blasting head over the stone with no effort.