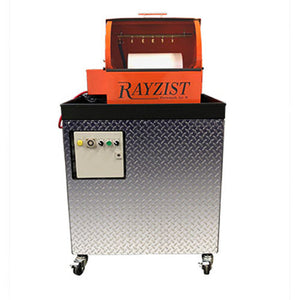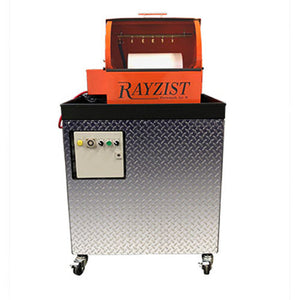 1232 Automatic Washout System - 2 Sheets
Self-Propelled Automatic Washout System - 2 Sheets
The Rayzist Photomask 1232 Automatic Washout System will provide great process improvement and give you consistent quality wash-out results that will enhance your production process and ensure exacting quality resists.
With an exclusive, patented design, the Automatic Washout System jumpstarts your productivity by automating the washout process and producing ultra-consistent results. 
When your business is growing in the sandblasting area it's time to consider the advantages of an efficient wash-out system.
Weights and Measures
Dimensions: 81cmW x 61cmD x 140cmH
Shipping Weight: 200 kilos
Wash out Size: 2 x Legal Sheets or 24cm x 75cm wrap.
Power: 10 amp for controller, Propulsion – water
Requirements
Hot water inlet: 1.5" – 3.8mil
Water Pressure Minimum 40psi
Videos



Features
Automatic washout
Faster washout
Consistent results
Accommodates two standard 8.5" x 14" film sheets
Precision nozzle placement
5 High pressure spray nozzles
Auxiliary hand washer
Consistent drum rotation
Energy efficient motor
High efficiency pump
Consistent water pressure
21 Gallon heated reservoir
Simple to use control panel
Programmable timer
One button cycle function
Easy glide, stainless steel wash head cover
Epoxy powder coated stainless steel interior
Aluminium diamond plate body
Epoxy powder coated tray
Built on locking wheels
Low maintenance
Reduces operator fatigue
Patented equipment design (#5,366,584)