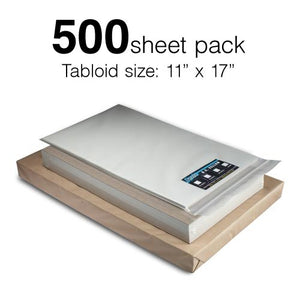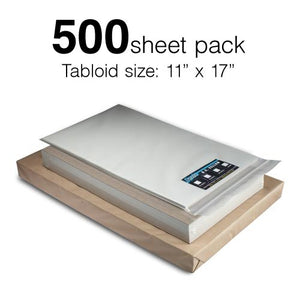 Vellum Film Tabloid Size 28cm x 43cm 500 Sheets
UV Vellum Film Xtra Large size
A print film specifically made for Laser Printers only. UV Vellum Film is a transparent wood pulp paper product with a specific weight and grain and is a UV balanced version of Vellum meaning that UV light passes through it evenly.
Used for printing your artwork onto with a Laser Printer for exposing your image onto SR3000 PhotoMask.
It is the cheapest print media and gives the least dark print. We recommend using our Crystal Kote darkening spray to make the print darker.
For Laser Printers only

This product is not to be used with Inkjet Printers.
Size: Tabloid - 28cm x 43cm 
Quantity: 500 Sheets
GSM: 64