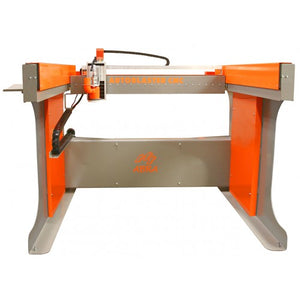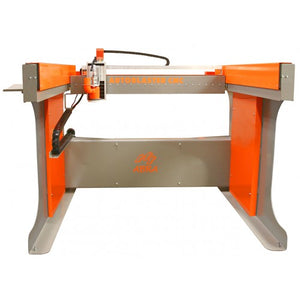 CNC AutoBlast Bridge Assembly without Sandblaster
CNC Bridge Assembly only
Weights and Measures
Sandblasting Area: 1200 x 1200mm
Sandmaster Pro Dimensions: 80cmW x 119cmD x 170H
CNC Table Dimension: 160cmW x 165cmD x 160cmH
Floor Space Requirement: 2mtr x 2.5mtr
Combined Weight: 450 Kg

Weight CNC AutoBlaster: 300 Kg
Weight Sandmaster Pro: 150 Kg

Shipping Weight: 825kg
Shipping Dimension: 182X183X170CM | 5.661 CBM
Operations
Standard Nozzle: 5 mm
Available Nozzle Sizes: 4, 5, 6 mm
Power: 240V/50hz
Vacuum Power: 2400 W
PLC: Siemens Programmable Logic Controller
Compressor Recommended: 40cfm
Air Requirement: 900 l/min
Working Pressure: 1.5 – 3.5 Bar
Max. Pressure: 5 Bar
Pressure Pot Tank capacity: 50 kg
Head Movement Speed: <10 cm/s
Air Hose: 19mm ID (inner Dimension)
Abrasive for stone: 40 Grit
Assembly
Very little assembly required
Requires Australian power plug
Warranty
Cabinet Construction: 2 Years
Air Exchange Motor: 1 year.
Non-Wear Parts: 90 days.
Videos


Features
The CNC AutoBlaster removes arduous labour from your sandblasting operation by automating the blasting process eliminating operator fatigue. Its Dustless blasting operation removes the need for protective clothing and enclosed booth set up. It will truly revolutionise your sandblasting operations.
Even the abrasive pot refill has been automated with no user interaction at all. During blasting when the pot runs out of abrasive the AutoBlaster stops, refills, and the then restarts blasting where it left off. Literally no down time.
During operation the filter system is automatically cleaned the abrasive level again reducing the operator's activity.
You can set up to 10 blasting zones so the AutoBlaster only operates over the specific blasting area making it highly efficient by reducing blast time and abrasive usage.
The CNC AutoBlaster does not require any special knowledge and skills from the operator. It is very quick to learn and start earning you higher profits.
Environment
Dustless Operation due to quality reclaim head and vacuum
Clean work area environment
Remove operator fatigue
Automatic control of entire sandblasting process
PLC production management

Job Type Programing

Auto start and stop

Fully automatic abrasive refill

Low abrasive sensor

Reports about the lack of abrasive in the sandblasting machine

Numerical control of Z axis allowing for sandblasting uneven surfaces

Plot multiple blasting fields

Blast mapping: Only blast the areas that need blasting
Multi-pass setting to control etching depth target
Consistent engraving depth
Remote service via the Internet

Compact and sturdy construction

Simple to operate

AutoBlaster adjust to multiple size tables

High manoeuvring speed, even up to 10 cm/s

Table size variations available